Ape Escape 2, known in Japan as Saru Get You 2 (サルゲッチュ 2) is the second installment of the Ape Escape franchise, and the direct sequel of Ape Escape. It was released on PlayStation 2.
Plot
This game takes place after the events in Ape Escape 2001, where Spike had stopped Specter from taking over the world. After some time had passed, the Professor had left for a vacation leaving his granddaughter, Natalie, and Spike's cousin, Jimmy, to watch over the laboratory. The Professor has left them with one task: deliver a load of monkey pants to the monkeys in Monkey Park. Jimmy accidentally sends not only the monkey pants, but some Monkey Helmets as well, wrecking the laboratory in the process. Specter gets a hold of one, and yet again makes an army of monkeys bent on ruling the world. Under Natalie's orders, Jimmy aims to capture all the monkeys and stop Specter (due to the mess-up from earlier). However, Specter has supplied five monkeys, The Freaky Monkey Five, with Vita-Z Bananas, making them stronger and more intelligent than the average monkeys.
Jimmy manages to capture all of the Freaky Monkey Five, except Yellow Monkey. Before his fight with White Monkey, Pipotchi, a baby monkey accompanying Jimmy, has been kidnapped, in order to transfer the data in his Monkey Helmet (a re-engineered model which makes Pipotchi friendly) into a device called the Lethargy Laser. Rescuing Pipotchi, Jimmy makes his way through a monkey controlled military base, and confronts Specter, who is waiting for him with a redesigned version of his battle cruiser from the first game. Before the two can battle, Yellow Monkey, now a giant monster thanks to an overdose of Vita-Z bananas attacks the facility. Specter flees, and Jimmy manages to downsize and capture Yellow.
Jimmy, the Professor and Natalie then discover the purpose of the Lethargy Laser. By firing it at the globe, all humans worldwide will lose the will to fight back, making it easier for Specter and the monkeys to take over the world. Jimmy confronts Specter at his moonbase, who attacks him with a giant robot. Once defeated, Specter attempts to fire the laser, but Jimmy states that humans will never give up, and captures him. Jimmy and Pipotchi then flee the exploding moonbase.
Shortly afterwards, Specter escapes and goes into hiding. Jimmy then proceeds to capture all the remaining monkeys before the Professor discovers Specter's hiding place. Jimmy warps there, encountering Specter, and the two of them battle again. Specter loses and is once again captured. The game ends with Spike visiting the laboratory, which is again destroyed when Jimmy accidentally crashes a spaceship into it.
Gameplay
Gameplay is similar to the first Ape Escape game. Jimmy can run, jump, climb, and swing on objects. Throughout the adventure, he gains several gadgets from the Professor in order to help in his monkey catching mission. Like before, Gadgets are used with the Right Analog Stick instead of the face buttons. There are also new techniques, such as a long jump.
When Entering a stage, the number of monkeys that should be captured in order to complete the stage will be displayed. However, more may be available in the stage than asked for, which means that you will need to return into the stage another time to finish it entirely. The bottom-right corner of the screen displays a group of icons indicating how many apes have been captured (a net icon) and how many must still be captured (an ape head icon). Jimmy's Health is shown by cookies, which he can gain from cookies that are dropped by enemies. His life icon is symbolized by his vest.
Coins are also different in this . Instead of the conventional 100 coins= 1 life, coins can now go over 100, and max out at 999. Coins also have a combo meter, where every 5 coins turns every coin in the stage into a 5x coin, and every 5 coins turns into a 10x coin.
There are now 12 Gadgets in Ape Escape 2. All of the previous Gadgets in Ape Escape return, and are given an updated look. 4 new gadgets appear, with one of them only appearing with a special disk. Like before, more Gadgets are given to Jimmy during various events.
Minigames
Like in the previous game, Ape Escape 2 features 3 minigames. But this time, instead of being unlocked only by collecting Specter Coins, the player has to pay for them with Gold Coins, collected throughout levels, via a vending machine called the Gotcha Box in the Travel Station. However, you still need to clear a specific level in order to make those available in the Gotcha Box.
Characters
Levels
Each of the game level's are connected through the Hub world, now the Travel Station. Jimmy now has to catch 300 monkeys.
Name
Monkeys
Travel Station
None
Liberty Island

6 Monkeys

George

Libby

Chill (Squat NTSC)

Henry

Tomkey Kruise (Cruiser NTSC)

Breezy Village

6 Monkeys

Dozy (Loser NTSC)

Baboondini

Walter

Jon

Crusty

Port Calm

8 Monkeys

Dannyboy (Sonny NTSC)

Seanyboy (Monkichino NTSC)

Chili

Beday

Florence (Jen NTSC)

Punto

Lilo

Viva Apespania

12 Monkeys

Pogo

Slope

Billy

Ole

Chutney

Wiz (Carlito NTSC)

Birgit (Bridget NTSC)

Lily (Alison NTSC)

Trip

Toro (El Toro NTSC)

Annie

Blue Monkey Battle!
Blue Monkey
Castle Frightmare!

13 Monkeys

Virgil

The Invisible Monkey (Secret Monkey)

Monk Quixote

Van

Simon (Dynamo NTSC)

Pierce

Jumpy

Viv

Count Monkula

Hyde

Stein

Nana

Vita-Z Factory
Casino City

15 Monkeys

Pelvis

Jessica

Vincent

Shaft

Jackson

Oozy

Simian Seagal

Leo (Secret Monkey)

Ulysses

Clint Apewood

Raymond

Vindy

Pierrot

Jester

Bubbles

Ninja Hideout

16 Monkeys

Snooz

Twiggy

Harry Karry

Chan

Duncan

Somnia

Hideyoshi

Takashi

Rapido

Jim

Bon-o

Boxer (Secret Monkey)

Chuck

Shiho

Ledski

Harvey

Yellow Monkey Battle!

Yellow Monkey
Snowball Mountain

14 Monkeys

Bernie

Zebedee

Jibber

Threedee (Secret Monkey)

Monkey Claus

Chill

Parka

Raver

Elodie

Davee

Big Bopper

Jimmy

Eddie the Falcon

Zippy

Lookout Valley

10 Monkeys

Olivia

Ally

Ty

Livingstone (Secret Monkey)

Louis

Lily

Gunn

Gill

Chris

Simian Tell

The Blue Baboon

12 Monkeys

Helmut

Sandy

Gloria

Michelle

Erin (Secret Monkey)

Brad

Mulder (Moldy NTSC)

Rik

Montague

Shorty

Speedo (Speedy NTSC)

Sooz

Pink Monkey Battle!

Pink Monkey
Enter the Monkey

20 Monkeys

Jean Paul

Simeski

Barry

Chan (Monkie Chan NTSC)

Marshall

Wesley

Chaz

Daimion

Bruce Monkee (Secret Monkey)

Miyazaki (Tai Shing NTSC)

Johnny

Naseem

Ming

Ryan

Martin

Jools

James

John Ook (Monk NTSC)

Goku (Songokou NTSC) (Secret Monkey)

Daniel C. Ooke

Simian Citadel

19 Monkeys

Sly

Norman

Alex

Jonah

Mermonkey

Colin

Nicky

Vaughan

Dave

Gonzales

Daley

Ollie

Dolph (Secret Monkey)

Tommy (Secret Monkey)

Grace

Jim

Rex

Brucie (Spruce NTSC)

Woody (Woodward NTSC)

Panic Pyramid

17 Monkeys

Piz

Stu

Stevie

Jimbo

Roberts (Robert NTSC)

Uri

Eric

Curley

Chimpette

Dane

Slim

Cleo (Secret Monkey)

Spud

Anthony (Secret Monkey)

Becky

Gordon

Sphinx

White Monkey Battle!

White Monkey
Pirate Isle

20 Monkeys

Pugwash

Burt

Hawkins

Kelly (Kelli NTSC)

Stephenson

Mel

Dick

Bradley

Tabasco (Spicy NTSC)

Bonzo

Scratchy

Vic

Indy

Bobby

Freddie

Denis

Oliver

Captain Ook

Jeffrey

Lee (Secret Monkey)

Land of the Apes

21 Monkeys

Rupert (Secret Monkey)

Craig

Hear no Evil

Brian

Smell no Evil

Speak no Evil

Bones

Mr Frosty

Lynn

Lars

Stone

Seb

Torvill

Dean

Monksk

Robinson

Murray

Linz

Philippe

Mona

Patrick

The Lost World (The Lost Valley NTSC)

18 Monkeys

Homer

Sam

Grant

Mervin

Terry

Murdoch

Monko Polo

Emma (Secret Monkey)

Stumpy

Baz

Des

Christy

Stanley

Lewis

Prince

Lunch

Ovett

Babe

Red Monkey Battle!

Red Monkey
Skyscraper City

23 Monkeys

Brendan

Ali

Jim (Dexter NTSC) (Secret Monkey)

Ricardo

Douglas

Cameron

Slider

Spank

Din

Sue

Dum Dum

Jitter

Robson

Spud II

Cole

Ty

Slacker

Kengo

Rory (Secret Monkey)

Eubank

Miller

Spacey

Ivor

Code C.H.I.M.P.

21 Monkeys

Kiki

Cole

Mimi

Tanjobi

Major

Ebiike

Corporal

Sloth

Heston

Buzz (Secret Monkey)

Matt

Gaelle

Arnold

Sylvester

Sandra

Boots

Sinclair

Keeble

General

Laura

The Cleaner

Giant Yellow Monkey Battle!

Giant Yellow Monkey
Moon Base

20 Monkeys

Lardy

Tom

Bruce

Han (Ham NTSC)

Neil Apestrong

Chelsea

SAL-01 (APE-01 NTSC)

Kubrick (Quirk NTSC)

Chewy (Chewmonkey NTSC)

Obi Ook Kenobi (Kenobape NTSC)

Darth Apester (Apester NTSC)

Luke Apewalker (Apewalker NTSC)

Neo

Tsubasa (Scotty NTSC)

Boba (Bobo NTSC)

Lister (Lester NTSC) (Secret Monkey)

G. Ookas (Ookas NTSC)

Scully (Sulky NTSC)

Kai

Yoshi (Megamonkey NTSC) (Secret Monkey)

Showdown with Specter
Cymbal Crashing Monkey/Ultra Goliath

Final Showdown with Specter

Specter
New Game+
If the player has successfully complete the game and catch all monkeys, Spike can be playable on a new file. Highlight the "New Game" option on the Main Menu, hold L1 and press Start to play as Spike. In this mode, all of the Monkeys become harder to catch, but all of the Gadgets in the game become available for you at the start. There are also no cutscenes in this mode.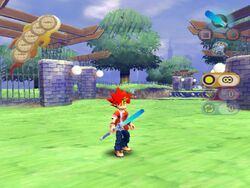 Development
The music of the game was composed by Koji Hayama, managed by Don Makkou and Bungo Fujiwara of Two Five and data programmed by Masaaki Kaneko of Procyon Studio. The game's sound effects were created by Takashi Kanai and Junko Sano. The voice acting of the American version was recorded by Dan Rich and Jeremy Blaustein. The voice acting of the European version was recorded at Side UK on Great Titchfield Street in London, with Andy Emery serving as the voice director.
Ape Escape 2 was re-released as a PSN title in 2016, featuring trophies and upscaled graphics.
Voice Actors
Voice Actors

| Role | American Voice Actor | European Voice Actor | Japanese Voice Actor |
| --- | --- | --- | --- |
| Jimmy/Hikaru | Veronica Taylor | David Holt | Motoko Kumai |
| Pipotchi | Tara Sands | David Holt | Omi Minami |
| Natalie/Natsumi | Rachael Lillis | Rachel Preece | Jouji Yanami |
| Professor/Hakaze | Dan Green | Jonathan Keeble | Tomoko Kawakami |
| Specter | Gregory Abbey | Marc Silk | Chika Sakamoto |
| Blue Monkey/Ukki Blue | Gregory Abbey | Richard Pearce | Takahiro Sakurai |
| Yellow Monkey/Ukki Yellow | James Carter Cathcart | David Holt | Shoto Kashii |
| Pink Monkey/Ukki Pink | Veronica Taylor | Rachel Preece | Miyuki Matsushita |
| White Monkey/Ukki White | Gary Littman | Marc Silk | Kenichi Ogata |
| Red Monkey/Ukki Red | Gregory Abbey | Uncredited | Daisuke Gori |
| Spike/Kakeru | Dan Green | Richard Pearce | Fujiko Takimoto |
Gallery
See Ape Escape 2/Gallery.
Trivia
There are 300 Monkeys to catch, which is 100 more than the previous game.
The PlayStation 4 re-release of Ape Escape 2 has the European voice actors in the US release. It is currently unknown why.
The Japanese release on Ape Escape 2 (Saru Get You 2) has a Quick Gadget Select, similar to Ape Escape 3. It was removed outside of Japan.
A bonus Gadget called the Salva Star was available in the Japanese version of Ape Escape 2 (Saru Get You 2) via a special disk called Saru Get You 2: Uki Uki Disk (サルゲッチュ2: ウッキウッキーディスク). Since the disk was never released outside of Japan, this Gadget is impossible to get for Jimmy.

Due to a potential oversight, Spike is able to use the Salva Star (Due to him having all the Gadgets at the start) in all versions by pressing L1 or R1 on the Monkey Net on the Gadget Select.

New Game+ is non-canon.
Despite popular belief, Soichi Terada did not compose the Ape Escape 2 soundtrack. The composer for that game was Koji Hayama.